Acro is a beautiful fusion of classic dance technique with the precision and athleticism of acrobatic elements.
This exciting style of dance has similarities to rhythmic gymnastics

but focuses on incorporating acrobatics into performance dance,
rather than a little dance into a gymnastics routine.
Acrobatic dance has become popular thanks to shows like
Dance Moms and The Next Step.

Professional dancers these days are almost expected to have some acrobatic skills in their repertoire.
The strength, flexibility and control elements of acro make it great cross-training for ballet students.
We use the internationally renowned Acrobatics Arts Syllabus.
​How our acro classes work
From years of teaching acro we have recognised that there are two groups of students who enjoy this style;
dancers who also take technique classes and may take their dancing more seriously, and those that may just love acro because it's fun.
To cater to both groups our classes are categorised into Bronze, Silver, and Gold.
Students are coached at their individual ability level within classes of specialised focus;
each class can accommodate students working at several different levels
Bronze Acro
Is our fun focused class, where students enjoy learning new acrobatic skills, gaining strength, control and coordination.
This class may be for beginners just starting or those that only wish to take acro by itself.
Students can continue to progress up the levels at their own pace in this class.
Bronze students are given the opportunity to perform in our annual production, but are not expected to sit exams.
Silver Acro
For students with 2+ years acro experience who also take technique dance classes each week. Taking a ballet or jazz class alongside acro allows students to progress faster with their acro and use their acrobatic skills more effectively in choreography.
Silver students enjoy performing a more complex acro dance for our annual production, and are expected to sit annual exams.
Gold Acro
Students earn their place in our Gold Acro class when they have reached Acrobatic Arts level 3 or higher
and take multiple dance technique classes weekly.
These classes are structured to develop strong and balanced acro dancers,
capable of performing more challenging acro skills with precision and control.
Now included in the senior production these students are cast in highly choreographed, epic acro dances.
Gold acro students are expected to sit annual exams.
These levels provide an excellent introduction to acrobatic dance
and includes fun skills such as somersaults, bridges,
handstands and pre-cartwheels.
Appropriate for ages 5 years and up
These levels continue to build on the progressions of earlier levels
and now include skills like cartwheels, scorpions, headstands,
front and back walkovers, and arabians.
Once in these levels, the classes are split by ability instead of age.
As acro dancers progress through the higher levels they require a higher degree of technique based in ballet or jazz.
Therefore any student enrolled in acrobatic dance at level two or higher is required to take an additional technique based class.
Levels two - four: one 60 minute acro-dance, and at least one ballet or jazz class
Levels five - six: two 60 minute acro-dance, and at least two additional classes from ballet or jazz
These levels really step it up and include the exciting skills of
flying cartwheels, aerials, and back handsprings.
Dancers now truly focus on seamlessly combining their
acrobatics into dance performances
The recommended age range starts at 13 years for level seven,
but each student is assessed on ability to ensure they are
training at a suitable level.
Two 60 minute acro-dance, and at least
three additional classes from ballet or jazz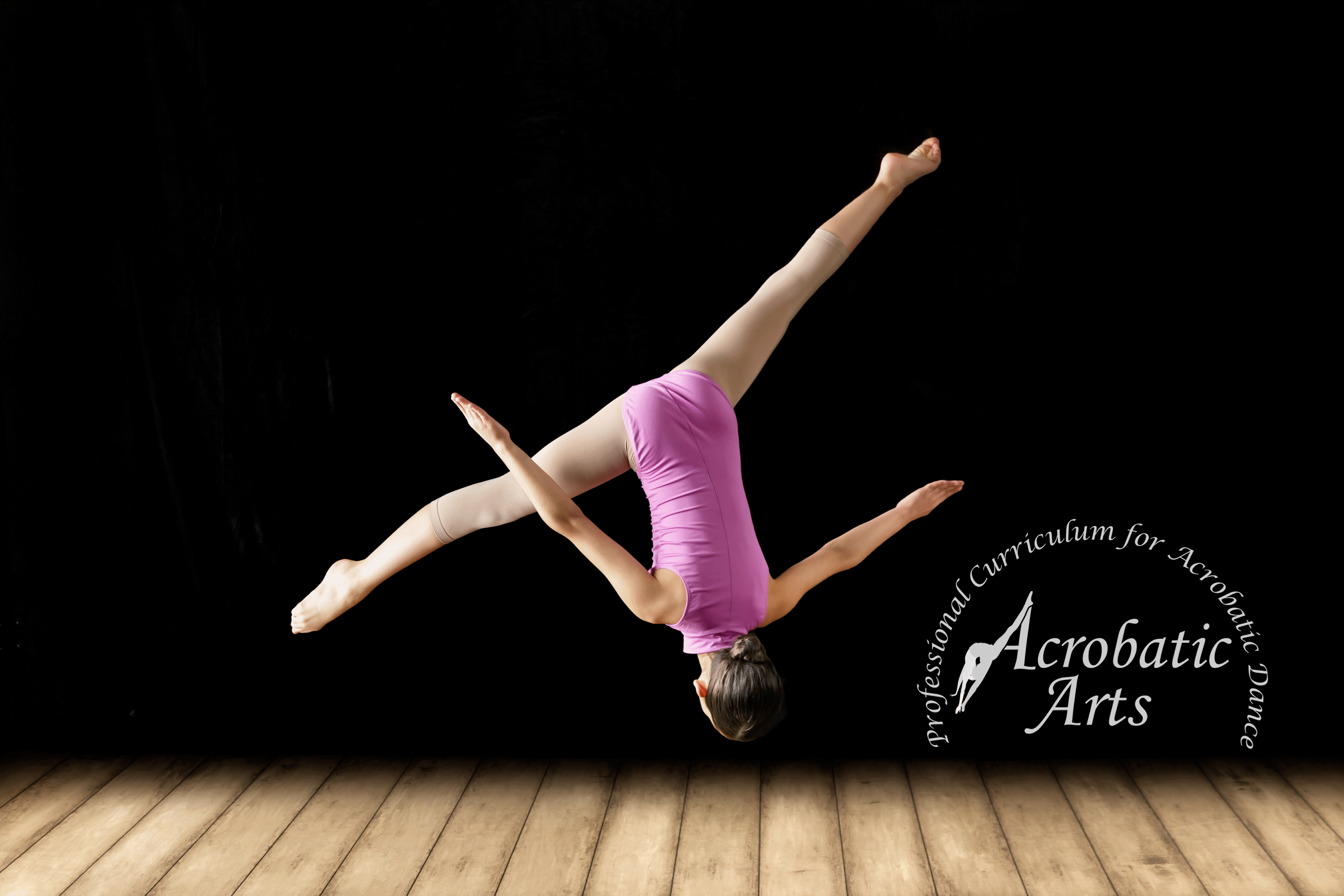 /